Looking forward to 2015, we look back to celebrate the more happier times of Kpop in 2014. Most of the best of 2014 came to us through idol group debuts, Hallyu wave expansion in the USA and variety show stars.
Korean Entertainment's Top 10 Best moments of 2014
1. 2NE1's Comeback
2NE1's comeback was one of the most hyped comeback's since DBSK's Mirotic. No one really believed YG Entertainment would make it happen, until teaser pictures started to appear. News that YG spent 500,000,000 Won (approx. $467,000 USD) on the album raised the excitement among the Black Jack fan base. The comeback music video didn't disappoint with its sci-fi theme.  Several interpretation of the MV sprung up online, making the comeback even further intriguing. 2NE1 was well on its way to stealing Girls Generation's crown as top girl group (until Park Bom's scandal…).  2NE1's "Crush" album topped the charts worldwide, from Gaon to Billboard. They won back to back, on Korean music broadcast programs.
2. AKMU (Akdong Musicians)
Akdong Musicians took Korea by storm! Indie music is really popular right now in Korea, so seeing a indie/folk group coming out of the Kpop powerhouse YG Ent was new and refreshing. They topped the charts in Korea for numerous weeks, which is unheard of for a rookie group. They even beat out veteran (and their boss's former boss) Seo Taji in the charts during one of their releases. Their single releases were hits 100% of the time.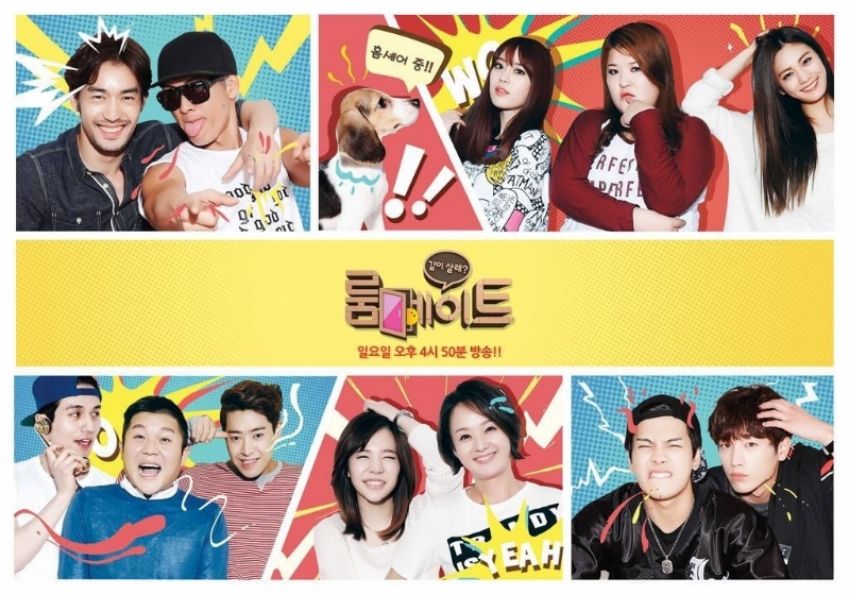 3. Roommate Season 2
After the downfall of Roommate Season 1 (which also stemmed from the Bom scandal…), Roommate came back with Season 2.  Many fans were iffy about the change but after the new episode aired with the new cast members, Roommate became a hot topic.  The new cast were funny, down-to-earth and the cast seemed even closer than ever.  Breakout stars during this season is plus size Gagwoman, Guk Joo, GOT7's "wild and sexy" Jackson Wang and KARA's new member Youngji. Watching Roommate S2 is like watching your extended family get together for a holiday, and had a little too much wine.
4. Big Byung (aka Rookies of the Year)
Another Variety show hit that feature Kpop idols is project group Big Byung (a wordplay on Big Bang) created from the MBC show, "Hitmaker." Hitmaker is MCed by comedians Donni and Conni, and the group is made up of VIXX's N and Hyuk, GOT7's Jackson Wang and BTOB's Sungjae.  This awkward combination somehow worked and created a hilarious TV show with an even more hilarious debut song. With how low budget the production of the music video/song was, it added an extra layer of comedy.
This show can't be effectively describe, so I urge more people to watch it. It's currently on its second season, and they're even going to create a girl group featuring breakout star Youngji.
5. Super Junior's Sungmin's Marriage
To some (aka crazy ELFs) this is a scandal but to others this is a happy event.  It's great to finally see idols break out of the idol mold and actually live their lives.  Though it seemed to come out of the blue, which sparked a lot of rumors. Many congratulated Super Junior's Sungmin on his marriage.
6. Kpop Idols on American Television
America's Next Top Model this season was in Seoul for the final challenges, and this was the perfect opportunity for K-idols to appear on American Television.  Korean music entertainment groups appeared on the show during challenges.  2NE1, BTOB and even Royal Pirates appeared on the popular CW TV show.  This calmed the mass confusion of when Ms.Jay posted a picture on his twitter of BTOB.
7. The battle of the Big 3 (SM-JYP-YG) Rookies
8. Misaeng  (ZE:A's Siwan) Takes Korea by storm
Misaeng was Korea's top acclaimed drama this year. If you didn't watch them, then you missed out on some epic stories that made you cry, laugh and cry some more. Misaeng, a work drama starring ZE:A's Siwan was a hit. You can watch it on Soompi with English subtitles.
"Jang Geu-Rae (later played by Siwan) played the board game go since he was a child. Playing the game was everything to him, but he failed to become a professional go player. Now he is thrown out into the real world. By an acquaintance's recommendation, Jang Geu-Rae is able to begin to work at One International as an intern.

On his first day, Jang Geu-Rae meets his boss Oh Sang-Sik (Lee Sung-Min). Jang Geu-Rae struggles to adapt working at a company." -asianwiki-com"
9. Diversity is "IN" in Korean Entertainment
Lee Michelle began it all, when she took our breadth away with her debut single "Without You," released on March 20th. Contrary to some netizens belief, Lee Michelle is Korean, born and bred. In a sense she is no different in citizenship than CL or Yoona of Girls Generation. Arguably, she is more Korean than Tiffany also of Girls Generation, who was born and bred in the United States. However, Lee Michelle's heritage is a little more interesting. Her father is African American. 
As long as I've been watching/listening to Korean Entertainment, this year there's been an influx of foreigners on TV, and in the music industry.  Between shows like Adnormal Summit which cast foreigners from around the world telling their opinion on different social issues and GOt7's three foreigner members, Jackson Wang from Hong Kong, BamBam from Thailand and Mark from USA.  Also, some more breakout foreigners is Sam Okyere (Ghana) and Juilian Quintart (Belgium) from Adnormal Summit who have many other TV appearances, M.I.B's Kangnam from Japan and Henry and Zhou Mi from China. EXO-M (before Kris and Luhan left) were also hits in Korea. With shows like "Show me the Money 3," which had a Black rapper named Toy get some spotlight. Korea is going in a forward direction with diversity in entertainment. Jackson Wang, Sam Okyere and Henry are probably the variety show breakout stars of the year.
10. Hallyu Wave reaches America
Back in the day when the Hallyu Wave was still fresh and new, it was a rare thing for a Kpop star to visit America. From 2012 onwards Kpop mania reached America, and nowadays it seems like there's a Kpop concert each month in the States. A record number of Kpop groups and Korean artists visited the USA in 2014, including B1A4, 2PM Go Crazy World Tour, G.O.D, Illionaire, AOMG, VIXX, Teen Top, Infinite, Block B and B.A.P.  KCON and Asian Music Festival (AMF) has brought the most Idols to their events. KCON had Korea's biggests acts from G-Dragon to Girls Generation, as well as I.U.
In 2015, FT Island and TOPP DOGG have continued the frenzy, with concerts announced for January and February, respectively. The Hallyu Wave has finally hit America and we hope it stays for a long time.
Of course 2014 wasn't exactly known for its happy moments in Kpop. We didn't want to go all pollyanna, so we also came up with this: Top Best Moments of 2014: The Bad, Worst, and Just Plain Ugly
And this: An Infographic on the 9 Devastating Moments of 2014
 Like Us on Facebook | Follow Us on Twitter | Subscribe on YouTube